Wetlands and peatlands are a crucial part of the boreal forest ecosystem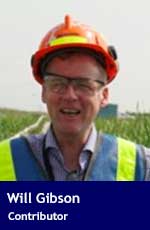 A zoologist by training, Jan Ciborowski has spent more than three decades wading through wetlands in the Great Lakes and northeastern Alberta. During that time, he has come to appreciate how nature can change the best-laid plans of even the smartest scientists and engineers.
Ciborowski and a team of undergraduate and graduate students are now studying a recently documented phenomenon that highlights nature's guiding hand: spontaneous wetlands forming in reclaimed areas in the oil sands.
These so-called "opportunistic wetlands" began developing on oil sands sites reclaimed and planted to become forests decades ago at Suncor Energy's Base Mine and Syncrude's Mildred Lake Mine north of Fort McMurray.
"Up to 18 percent of the reclaimed area expected to become forests have seen wetlands spontaneously forming. We are investigating whether they are likely to persist and forecast whether they will be able to sustain themselves," says Ciborowski, who has held the NSERC/COSIA Industrial Research Chair in Oilsands Wetlands Reclamation at the University of Calgary's Department of Biological Sciences since 2019.
"We can make forecasts about what will develop over hundreds of years when you reclaim an area, but it's not in our hands. Nature makes those decisions."
Wetlands and peatlands are a crucial part of the boreal forest's ecosystem, serving as vital habitat to hundreds of species of wildlife, including waterfowl, songbirds, and mammals such as beaver and moose. They act like sponges, absorbing precipitation and run-off that prevents flooding, and providing water during dry periods to the surrounding upland forests. Peatlands also serve as sinks to store carbon.
Because oil sands companies are legally committed to reclaim their leases to a status equivalent to prior to disturbance, they benefit from wetlands on their reclaimed sites.
The two oldest mining operations – Suncor's Base Mine and Syncrude's Mildred Lake Mine – have constructed man-made wetlands on reclaimed sites, where the companies have conducted research.
This is why the presence of opportunistic wetlands, which have been forming on their own, have created a great deal of interest within the industry.
Ciborowski's team is studying 120 wetlands in the region ranging from two to 40 years of age. Half are on reclaimed oil sands sites and the other half are not.
"These are all very young compared to mature peatlands that have taken hundreds of years to develop. We are monitoring water quantity, water quality, landscape disturbance, and the colonizing plants and animals to understand how conditions develop and to forecast wetlands' succession," he says.
Outside of the oil sands, opportunistic wetlands can form when water balances change after forest fires consume the trees or when beaver activity causes ponds to start forming.
"These can be our frame of reference for comparison with the wetlands forming on reclaimed landscapes. The real challenge is being able to understand whether those wetlands will remain when the trees grow to maturity," he says.
While it is hard to forecast the future for opportunistic wetlands, Ciborowski has seen how early studies have influenced the science of reclamation and practices within the industry.
"What's exciting about our work is we've gathered experts in a number of different disciplines – hydrology, geosciences, plant ecology, aquatic ecology to name a few – to work together on reclamation science. My belief in research is that collaboration is crucial. One can't expect to find the necessary breadth of expertise to do it in a single lab."
Will Gibson is the Principal with Will Gibson Consulting Limited in Edmonton, Alta. This article was provided by the Canadian Energy Centre, a Troy Media Editorial Content Provider Partner.
For interview requests, click here.
---
The opinions expressed by our columnists and contributors are theirs alone and do not inherently or expressly reflect the views of our publication.
© Troy Media
Troy Media is an editorial content provider to media outlets and its own hosted community news outlets across Canada.