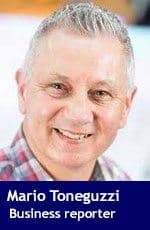 Calgary-based Suncor Energy reported a net loss of $280 million in its fourth quarter of 2018 compared with net earnings of $1.382 billion for the same quarter in 2017.
In a news release, the energy giant said the decrease "was primarily a result of unfavourable western Canadian crude oil differentials, including a substantial widening of synthetic crude oil (SCO) differentials."
For the year, the company's net earnings fell to $3.293 billion compared with $4.458 billion in 2017.
"Suncor generated funds from operations of $2 billion in the fourth quarter as our integrated downstream business and market access helped to mitigate upstream crude price volatility, including the further widening of the differentials for Canadian crude," said Steve Williams, chief executive office, in a statement. "We continued to return value to our shareholders through nearly $1.2 billion in share repurchases and $574 million in dividends paid during the quarter."
It said total oil sands production attained a new quarterly record of 740,800 barrels per day (bbls/d), close to 90,000 bbls/d ahead of the previous record, primarily as a result of achieving 94 per cent plant utilization at Fort Hills and record production at Syncrude.
"Fort Hills achieved plant utilization of 94 per cent for the quarter, exceeding our accelerated target of 90 per cent, and production from Syncrude was strong, with the assets attaining a new quarterly record," said Mark Little, president and chief operating officer. "Our refining assets continue to outperform due to continued reliability, achieving a new quarterly throughput record and allowing us to maximize the impact of strong refining margins."
The company said it spent $1.119 billion on capital expenditures, excluding capitalized interest, during the fourth quarter of 2018, a decrease from $1.444 billion in the prior year quarter, primarily due to the decrease in growth capital with the commissioning of Fort Hills and Hebron. Sustaining capital expenditures in the fourth quarter of 2018 were comparable to the prior year quarter, it added.
"We remain focused on capital discipline and ensuring safe and reliable operations across our business," said Williams. "Through our integrated model and the value-driven investments we've made in our business, Suncor is well positioned to continue to grow production and cash flow, and to increase returns to shareholders across a wide range of market conditions."
– Mario Toneguzzi for Calgary's Business
---
The views, opinions and positions expressed by columnists and contributors are the author's alone. They do not inherently or expressly reflect the views, opinions and/or positions of our publication.