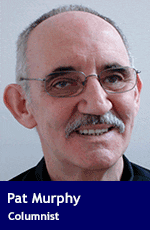 Including his two campaigns for vice-president, Richard Nixon ran for office nine times and lost twice. One of these losses was the razor-thin defeat to John F. Kennedy in 1960's presidential contest. The other was his ill-advised California gubernatorial effort two years later.
California was Nixon's home state and he'd always done well there, even edging Kennedy in 1960. On the surface, he seemed a good fit for the state's political environment as it then was.
So what went wrong? How did a man with one of the highest profiles in American politics – someone who'd just come within a hairsbreadth of winning the presidency in 1960 – flop so badly in 1962?
To understand, it's helpful to look at the situation he'd found himself in.
Nixon was 48 years old when his vice-presidential tenure ended in January 1961. Virtually all of his post-war life had been spent in politics and he wasn't a wealthy man. He needed to earn some money to support his wife and two young daughters.
With that imperative in mind, he went back to California to practise law and write a memoir.
The law bit was an obvious fallback. He'd been admitted to the California bar in 1937 and had practised there for several years. And given his profile, there'd be a decent market for a book.
Nixon, however, wasn't happy. He was bored and missed politics. The question was how to get back in the game.
What Nixon really wanted was to be president. But a second White House try required reasonably propitious circumstances and 1964 would be iffy. Kennedy would certainly run again, and incumbent presidents were generally re-elected.
Meanwhile, being governor of California was attractive politically. It would help preserve his prominent status and provide a springboard for capturing the Republican presidential nomination whenever the timing was right.
Related Stories
There was, though, a significant problem. Nixon had no interest in the issues a governor is expected to deal with. The thing that really appealed to him was foreign policy.
While Nixon wrestled with his ambivalence, the peculiar relationship with his former boss – Dwight Eisenhower – kicked in. Although they hadn't been close during the eight years he served as Eisenhower's vice-president, Nixon still treated the older man with a degree of deference. It wasn't a matter of taking instruction but rather of feeling the requirement to consult.
Eisenhower's self-described "two cents" didn't beat about the bush: "I can find no alternative to an affirmative decision. … I see no reason why, if you are elected governor, you cannot, if you wish, make the 1964 presidential race – and I think you would be in a far more powerful position as governor, controlling a large delegation, than otherwise."
Whatever weight Eisenhower's counsel carried, Nixon finally decided. On Sept. 27, 1961, he declared his gubernatorial candidacy and ruled himself out of the 1964 presidential stakes. The die was cast.
As events transpired, the ensuing election year – 1962 – wasn't good news.
There was just one bright spot. His memoir, Six Crises, was published in the spring and quickly became a bestseller. More than 250,000 copies were sold and the royalties were very healthy.
But the gubernatorial campaign was a disaster.
First, the Republican primary was a testy affair that left Nixon triumphant but bruised. Then he lost the general election to the Democratic incumbent by a decisive five points. In the process, a substantial number of voters apparently understood that he wasn't much interested in actually being governor. It was just intended as a stepping stone to the presidency.
And things got worse.
There was the infamous "last press conference" where he dared the assembled reporters to "just think how much you're going to be missing. You won't have Nixon to kick around anymore."
And then came The Political Obituary of Richard M. Nixon, ABC's controversial television documentary that struck some as the equivalent of dancing on his grave.
The Nixons decamped from California in 1963 and moved to New York City. His political career seemed to be well and truly over, at least as far as being a candidate was concerned. Instead, he'd settle into his new life as a lucratively remunerated Wall Street lawyer.
Of course, we know that's not quite what happened.
Within five years he was a candidate again, winning the presidency twice – in a 1968 photo finish and a 1972 landslide. And he took California on both occasions.
Troy Media columnist Pat Murphy casts a history buff's eye at the goings-on in our world. Never cynical – well, perhaps a little bit.
For interview requests, click here.
---
The opinions expressed by our columnists and contributors are theirs alone and do not inherently or expressly reflect the views of our publication.
© Troy Media
Troy Media is an editorial content provider to media outlets and its own hosted community news outlets across Canada.